The Brewery, Church Street, Epsom
latterly called Pagden's
The Brewery Building in Church Street, Epsom. Now Church House, the parish hall
Image courtesy of Brian Bouchard © 2010
1) Tenure
A site in Church Street, Epsom, adjacent to St Martin of Tours' church, was held in 1680 by Edward Lambert and does not appear to have been used for a brewery at that time. By 20 November 1708, however, a "Messuage lying on the E side of Church Street, Epsom, with the brewhouse, chambers, cellars, vaults, stables yards etc." had been mortgaged by Robert and Elinor Parker.
Robert Parker (1) had a son Robert (2), apparently christened in Epsom on 22 November 1696 although the mother's name has been recorded as 'Ellen'. Robert (2) married Sarah Cock, at Banstead on 24 July 1722, and they had three sons, Robert (3), Micajah (sic) and Thomas, baptised at Epsom, respectively on 13 May 1724, 29 August 1726 and 14 September 1729. Robert (2) pre-deceased his father and so Robert (1)'s will, dated 10 November 1737, left his estate to the widowed daughter in law, Sarah Parker, following his death in 1741.
On 12 January 1728, Robert Parker, junior, of Ebbisham, brewer, and Robert Parker, senior, gentleman, had purchased a property at Headley from Jeffrey Lambert, gent. for £100. This transaction was probably the Parkers' acquisition of The Cock public house.
Sarah Parker and her eldest son, Robert (3), re-mortgaged the premises described in the opening paragraph by lease on 19 November 1743. It appears that they may have been encountering financial difficulties because in 1745 they leased the Epsom property and "Messuage near Headley Church known by the sign of the Cock, with the stables, outbuildings etc." for a year to spinsters Judith and Dorothy Cock. The arrangement was in essence a mortgage to raise £1500 repayable to the Misses Cock with interest. The capital sum was not in fact paid and the properties in Epsom and Headley passed to the Misses Cock.
During 1746 Robert Parker, brewer, had also been copyholder of the King's Head, Ewell, but Volume 17 of The London Magazine or Gentleman's Monthly Intelligencer for 1748 is then found to include 'Robert Parker, of Ebbisham otherwise Epsom, in Surrey, brewer' in a list of 'Persons declared Bankrupts'.
Thereafter there is some confusion over tenancy of the brewery although Langley [Grace?] Brackenbury, born Spilsby, Lincs., whose father [Carr(e) Brackenbury] records in his will that provision had been made in 'setting him up as a common brewer', was in occupation before 1766. In that year Judith and Dorothy Cock granted Brackenbury another lease for a further 12 months.
H L Lehmann provides additional information at Item 9C1 in The Residential Copyholds of Epsom: in particular, by June 1791, Thomas Fitzherbert of Epsom [see article on Pitt Place] was in a position to sell at least part of the brewery premises to Langley Brackenbury. A licence was obtained to let the copyhold premises for a period of 21 years.
On 11 December 1800 Langley Brackenbury leased, under a further licence for 21 years: -
Freehold messuage, brewhouse, vaults, cellars, stables, outhouses etc. in Church Street
Copyhold messuage, brewhouse, buildings, store, cellars and walled garden lately purchased from Thomas Fitzherbert and
Two freehold barns, farmyards and buildings on the SE side of the church with their cellars, malthouse and pump; and a parcel of land
to Henry Webb of Epsom, brewer, who was already in occupation.
Webb took John Rutter of Dorking into partnership as brewers and maltsters at the Epsom premises, 1 January 1803, but their business relationship was dissolved by 10 May 1805. Disputes subsequently arose over the valuation of the houses, buildings and stock that could not finally be resolved until after Webb had died. His widow and administratrix, Charlotte Webb, eventually agreed, on 1 June 1811, to accept a final payment of £931:5:5, in addition to £1,000 received by her husband in his lifetime, to convey a half share in the business to Rutter.
John Rutter and Rebecca his wife were then able to convey the enterprise to William Cobbold* of Epsom, brewer on 30 August 1811.
At the beginning of June 1817 Cobbold sold on various properties, including the Church Street, Epsom, estate described, above to brothers Trayton Peter Pagden and Stephen Pagden, both described as drapers of Brighton. An explanation for their change of occupation to brewers may be found in the fact that during 1813 Trayton had married Martha Wigney, sister of George Adolphus Wigney. The latter, a son of William the founder of Wigney and Sons Brewery, Brighton, was the author of A Philosophical Treatise on Malting and Brewing published in 1823 **.
After 1855 but before 1867, ownership passed from Trayton and Stephen Pagden to Trayton's sons, Robert and Frederick Pagden. Stephen died, aged 86, in 1876 survived by Trayton until 1879 when the latter's demise is recorded at 91 years old.
Robert passed away at 69 in 1893 but the firm continued to operate as R. & F. Pagden, Hope Brewery, Epsom, registering the grandstand on the Downs racecourse as its trademark on 5 September 1896. After Frederick's death in 1904 business continued under E. Pagden and others.
Barclay Perkins & Co Ltd acquired the Hope Brewery in September 1921 and began demolishing buildings in Church Street, Epsom during the following year. An old photograph below shows work in progress with a notice on the site 'Ye Olde Brewery of Epsom being demolished by W T Clark, Housebreaker and Contractor', and salvaged architectural materials being offered for sale. The Times, 30 June 1922, reported that "Many thousands of valuable oak-pinned tiles three hundred to four hundred years old are being removed from the roof of an old brewery at Epsom for shipment to America".
The demolition of Pagden Brewery in 1922 - Click image to enlarge

Image courtesy of St Martin's PCC with kind permission of Rev. Simon Talbott, Vicar
It can be seen that, as in 1901, the brewery complex extended over half the church forecourt area. What remained of the structure to the rear was subsequently re-built as Church House, St Martin's church hall. On a pillar to the right is one of the 'supercilious lions', believed to have come from Nonsuch Palace, then standing guard over Pitt Place.
2) Location
Extract from the 1866 OS Map showing the Brewery
The choice of a site for the establishment of this brewery is likely to have been influenced by the availability of a supply of spring water in the vicinity of the parish church [see
A Brief History of Epsom and Ewell
]. Development in later years brought problems, as evidenced by objections to the effluent from Mr Rutter's brewhouse in Church Street, 1806. Not until 1825, however, was permission obtained for a covered drain to be constructed from the Church Street brewhouse to join the common sewer by Spread Eagle Inn. Writing in
Epsom, Its History and Surroundings
, published 1901, when the buildings extended between the graveyard and the road over half the church forecourt, Gordon Home remarked that the brewery remained 'of a very inoffensive appearance'.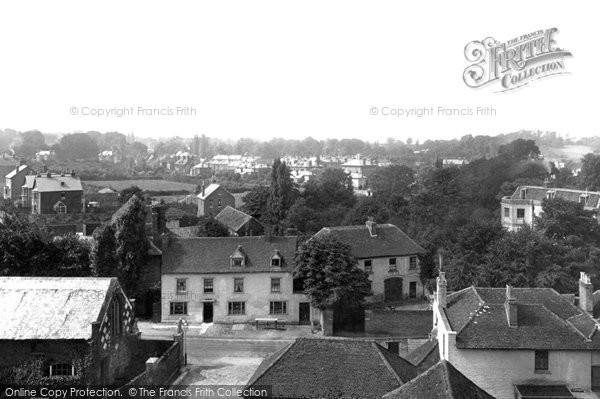 Reproduced courtesy of Francis Frith.
Brewery roof and the Old King's Head from St Martin's Tower
3) Public Houses
Following closure of the Church Street, Epsom, brewery, there is some confusion over the use of other assets owned by Pagdens including their 'pubs'. R. & F. Pagden Ltd., of Epsom, was registered as a private company in July 1925, with an agreement involving E Pagden, and appears to have retained the firm's public houses although they were badged as Barclays. [Eventually, 14 were sold on to Mellersh & Neale , 22 June 1931, - see
reigatebreweryhistorychapter5.blogspot.com
- a company which merged with Meux's Brewery Ltd, later part of Friary Meux Ltd.]
The following notes on particular properties could be of interest: -
Ye Olde King's Head, Church Street, Epsom


Ye Olde King's Head, Church Street
Image courtesy of Brian Bouchard © 2010


Although suggested to have been built in the 17th century, the first reference traced on record is to a lease from Michaelmas 1765. The messuage and ground known by the sign of the King's Head on the W side of Church Street in Ebbisham were comprised in Lot 6 of the sale of the Manor of Ebbisham 10 September 1770. William Badcock of Epsom, victualler, purchased these premises but they passed via Allan Edwards to Henry Webb (brewer as mentioned above) in February 1803 and then in succession to Trayton Peter and Stephen Pagden.
The Amato, Woodcote, Epsom


The Amato Pub c 1910.


By 15 March 1734 this property was 'known by the sign of the Rummer' but in 1801 had commonly come to be called the Hare and Hounds. William Cobbold (brewer as noted above) purchased it on 27 June 1811 and sold to Stephen Pagden, 23 April 1824. Stephen's will dated 11 October 1867 left the public house, renamed The Amato sometime after 1838, to three nephews one of whom was Frederick Pagden, of Church Street, Epsom, brewer.
One Tun, High Street, Epsom


High Street, West End. Tun Inn and Jane Holden coffee house c.1905
Image courtesy of Surrey Libraries and is held in the
Epsom & Ewell Local And Family History Centre Collection


Established as a public house before 10 August 1807, it was purchased by William Cobbold (brewer as noted above), 28 October 1811. Cobbold sold a messuage called the George together with the adjoining One Tun public house to Trayton Peter Pagden of Epsom, common brewer, on 23 April 1824. When Trayton died, in 1879, his son Robert inherited the house. [LINK to Lost Buildings]
The Eclipse, West Hill, Epsom


The Eclipse, West Hill photographed in 1971 by L.R. James
Image courtesy of Surrey Libraries and is held in the
Epsom & Ewell Local And Family History Centre Collection


Trayton Peter Pagden and Stephen Pagden were the tenants around 1826 of 'a public house called or known by the name and sign of the Horse Eclipse', more recently Eclipse House. [LINK to Public Houses]
Rubbing House, sometime Downs Hotel


The Downs Hotel now called the Rubbing House photographed in 1968 by L.R. James
Image courtesy of Surrey Libraries and is held in the
Epsom & Ewell Local And Family History Centre Collection


Stephen Pagden had been prominent in a dispute with John Ivatt Briscoe, Lord of Epsom Manor, which culminated with the following notice in the Sporting Magazine for 1835: -


MR. BRISCOE AND EPSOM RACES.
We are happy to inform our readers, that Mr. Briscoe has by deed deputed Mr. Pagden, of Epsom, to let the ground for booths and standings on the Downs, and to collect the tolls at the next races; and that he has authorized Mr. Pagden (after paying £5 to him to preserve his right, and £100 towards the extra costs, of the late trial) to pay over the whole of the residue towards the expenses of the races. The "business" on the Downs is now to go on as usual, and no alteration will take place in the character of the booths.

It may be inferred that Messrs Pagdens had a commercial interest at that time, probably in connection with the Rubbing House.

After this public house was destroyed by fire in 1857, J I Briscoe granted a building lease on the site of the Rubbing House to T P & S Pagden for 40 years from 11 February 1859. F E and Mrs A M Pagden were granted a further lease of 21 years on 19 May 1897. Possession appears to have passed from the Pagdens in 1918. [LINK to Public Houses]
Queen's Head, South Street formerly New Inn Lane


Queen's Head Inn, South Street c.1910
Image courtesy of Surrey Libraries and is held in the
Epsom & Ewell Local And Family History Centre Collection


This property had been described in 1746 as "that messuage or tenement with the ground thereunto belonging, in New Inn Lane...and commonly called or known by the name or sign of the Queen's Head." William Cobbold (brewer as noted above) acquired it - presumably after 1811 - and the premises then went to the Pagdens in June 1817.

An anecdote about the signboard may be found on page 37 in Gordon Home's Epsom, Its History and Surroundings.
Ironically, the Pagden family's former home, "Woodcote End" is now the Chalk Lane Hotel.
The Pagden family's former home, Woodcote End is now the Chalk Lane Hotel photographed in 1968 by L.R. James
Image courtesy of Surrey Libraries and is held in the
Epsom & Ewell Local And Family History Centre Collection
*William Cobbold, born 1784, was one of the many children of John Cobbold who owned Cliff Brewery, Cliff Road, Ipswich [much later incorporated in Tolly Cobbold]. His stepmother, Mrs Elizabeth Cobbold (1767-1824), became a great friend of John Constable, the artist, whose aunt and uncle, James & Mary Gubbins owned Hylands House, Epsom. These connections may explain what led William Cobbold to purchase a local brewery. He married Maria Sophia Negus at Brome, Suffolk, on 14 October 1813. Having moved on to North Hill Brewery, Colchester, in 1817, he died during 1826.
** Correction
George Adolphus Wigney the brewer, who wrote A Philosophical Treatise on Malting and Brewing published in 1823. was actually the nephew of William Wigney and cousin to Martha Wigney. He was brought up by his uncle William after his parents Joseph and Elizabeth Wigney died, when he was five years old. William Wigney the banker did indeed have a son called George, who was also brewer, but didn't write the article. To distinguish the two Georges, the author of the article was always known as George Adolphus Wigney
Contribution gratefully received from Heather King, George Adolphus Wigney's great, great, great grand-daughter.